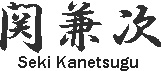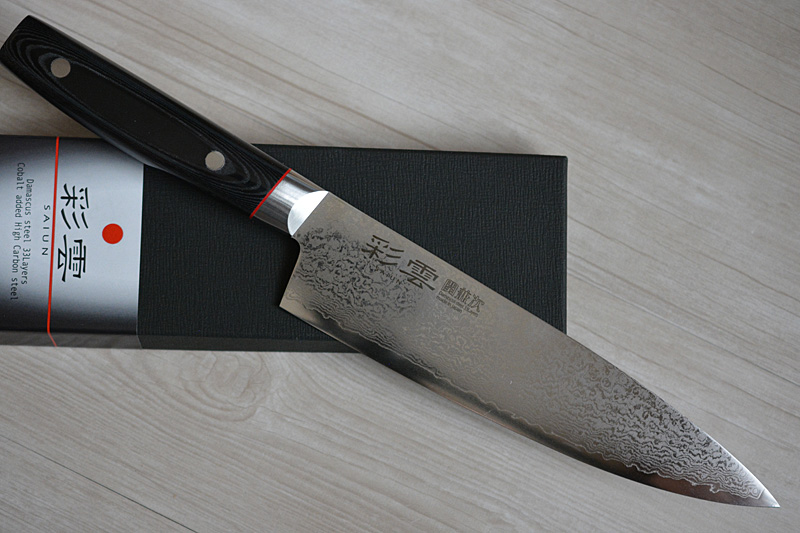 | | |
| --- | --- |
| Brand | Saiun by Seki Kanetsugu |
| Knife Type | Gyuto |
| Blade Steel | VG10 Damascus (Stainless) |
| Hardness | Around 61 HRC |
| Double beveled edge | For right and left-hand users |
| Handle | Micarta |
| Blade Length | 200mm (7.87inch) |
| Total Length | 325mm (12.8inch) |
| Weight | 230grs (8.1oz) |
| Country | Made in Japan |
US$150.00
(See in various currencies)

Description
Sharp, rust resistant and clam shape cutting edge, Seki-Kanetsugu's Saiun chef's knife.
Seki-Kanetsugu is one of the oldest knife makers in Japan, the owner, Mr. Kawamura is a descendant of Japanese swordsmith craftsman "Kanetsugu" (1300-1349), and was incorporated in Seki City over 100 years ago by his grandfather. Their kitchen knives carry on the tradition of Japanese swords.
Saiun Gyuto chef's Knife is made of 33 layers VG10 Damascus steel. It is slightly heavier than a typical Japanese brand knife, blade a little thicker, and the cutting edge is finished in a shape called Hamaguri(clam).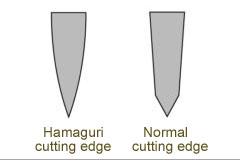 Skilled technique is required, but by finishing it in a clam shape, the ingredients can be cut smoothly and the sharpness lasts longer. This is the shape of the cutting edge unique to Japanese swords.
The handle is made by Micarta. Micarta is an ideal material for knives because it has a wood-like feel and does not swell, shrink or deteriorate with moisture.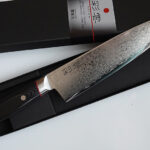 Blade : VG10 Steel edge(core) is integrated into 32 layers Damascus steel. VG10 is one of the best stainless steel for japanese kitchen knives. Features are…(1)Very hard and sharp , (2)superior edge retention , (3)resistance to oxidation.


Tsuba : This part is called Tsuba. There is no space between the blade and handle. So keep clean, and prevents corruption. Almost high-class kitchen knife has Tsuba.


Micarta Handle : Micarta is not deformed by humidity or temperature, and feels like wood. It is an ideal material for knives.
Maintenance
Keep clean and dry after use.
Do not use for any frozen foods or bones.
Not recommend to clean in dishwasher.