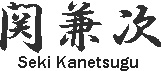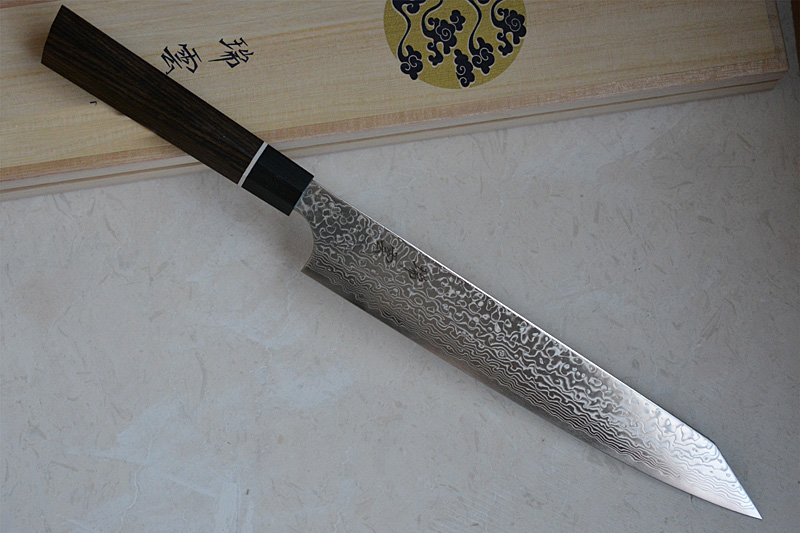 ---
US$363.00
(Click on price to see in various currencies)
---
– Specifications –
| | |
| --- | --- |
| Brand | Zuiun by Seki Kanetsugu |
| Knife Type | Slicer |
| Blade Material | SPG2 Damascus (Stainless) |
| Hardness | Around 62 HRC |
| Double beveled edge | For right and left-hand users |
| Handle | Laminated reinforced wood |
| Blade Length | 240mm (9.4inch) |
| Total Length | 390mm (15.4inch) |
| Weight | 155grs (5.5oz) |
| Country | Made in Japan |
Description
Sharp and rust resistant, Seki-Kanetsugu's Zuiun kiritsuke slicer knife.
Seki kanetsugu was founded over 100 years ago by Mr. Matsujiro Kawamura, a descendant of the legendary blacksmith Kanetsugu (1345-1400). And this Zuiun knife was made as a culmination of their technology on the 100th anniversary of its founding.
The SPG2 (Super Gold 2) steel edge is integrated in 62-layer damascus steel. SPG2 has HRC62 hardness, it is harder and sharper than vg10. This is a knife that inherits the tradition and skill of Japanese swords.
It can be used as a multi-knife for various foods and also can be cut sashimi instead of yanagiba knife. It is resistant to oxidation, so maintenance is easy.
Maintenance
Keep clean and dry after use.
Do not use for any frozen foods or bones.
Not recommend to clean in dishwasher.