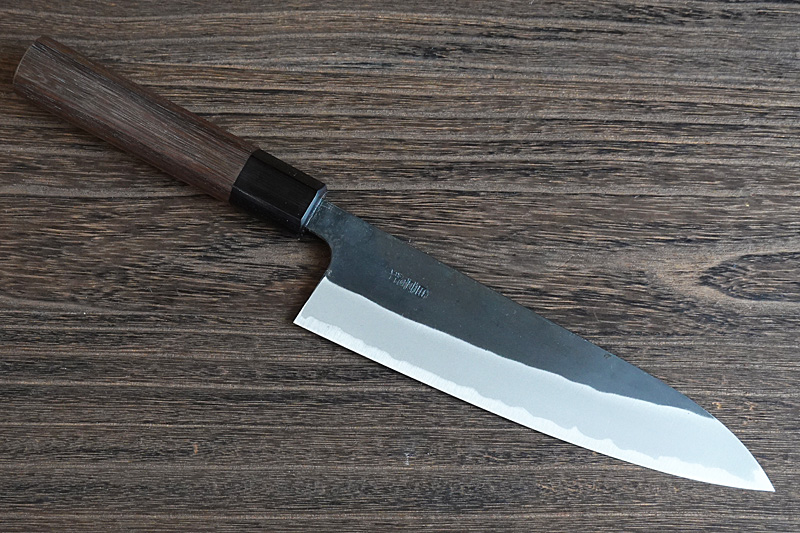 ---
US$145.00 $170.00
(See in various currencies)
---
| | |
| --- | --- |
| Brand | Yamamoto |
| Knife Type | Gyuto |
| Blade Steel | Shirogami#2 (Carbon) |
| Hardness | Around 63 HRC |
| Double beveled edge | For right and left-hand users |
| Handle | Rosewood |
| Blade Length | 18cm(7.1inch) |
| Total Length | 32cm(12.6inch) |
| Weight | 160grs(5.64oz) |
| Country | Made in Japan |
Description
Made by traditional Japanese forging method, Yamamoto brand Gyuto knife.
Aogami Super is the finest steel that has been improved by adding various additive, while Shirogami #2 is the purest and most traditional Japanese steel.
It is known that Shirogami#2 can be the sharpest knife depending on the skill of the blacksmith, and this kitchen knife is exactly that. Forged by Mr. Nao Yamamoto, who is a traditional craftsman, the thick spine create a good balance and ease of use, and the cutting edge inserts sharply into the ingredients. Other blacksmiths also praised it as "this is a amazing knife".
Shirogami#2 is not stainless steel, so it will rust. After use, wipe off the water and be careful not to rust.
Maintenance
Keep clean and dry after use.
Do not use for any frozen foods or bones.
Not recommend to clean in dishwasher.