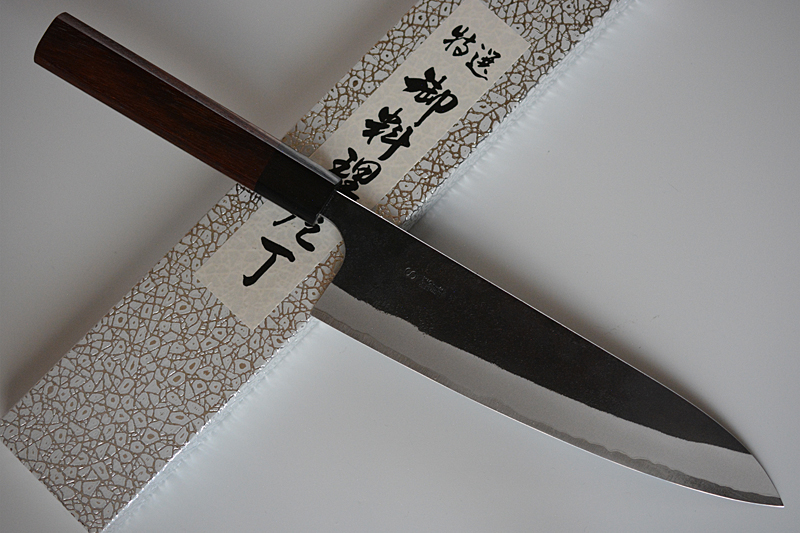 ---
US$285.00
(See in various currencies)
---
| | |
| --- | --- |
| Brand | Yamamoto |
| Knife Type | Gyuto |
| Blade Material | Aogami Super (Carbon) |
| Hardness | Around 65 HRC |
| Double beveled edge | For right and left-hand users |
| Handle | Rosewood |
| Blade Length | 21cm (8.26inch) |
| Total Length | 36.5cm (14.34inch) |
| Weight | 228grs (8.04oz) |
| Country | Made in Japan |
Description
Made by traditional Japanese forging method, Yamamoto Black Gyuto knife
Black forged Gyuto knife (Blade 21cm) made by Mr. Yamamoto who is one of the most notable Echizen knife craftsmen. The Echizen area is known as the center of forged knives and Mr. Yamamoto is certified by the Japanese government as a traditional craftsman.
The edge is made of Aogami (blue) super. It is the best carbon steel from Hitachi Metals, it has the highest hardness of Japanese steel and a long-lasting sharpness.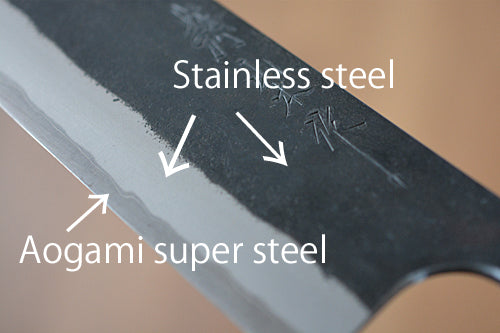 The blade is very hard but it is not difficult to sharpen with the stone. It's easier than stainless steel knives. To maintain its function, it is recommended to have a sharpening stone.
Do not cut frozen food or bones, to avoid chipping in the blade.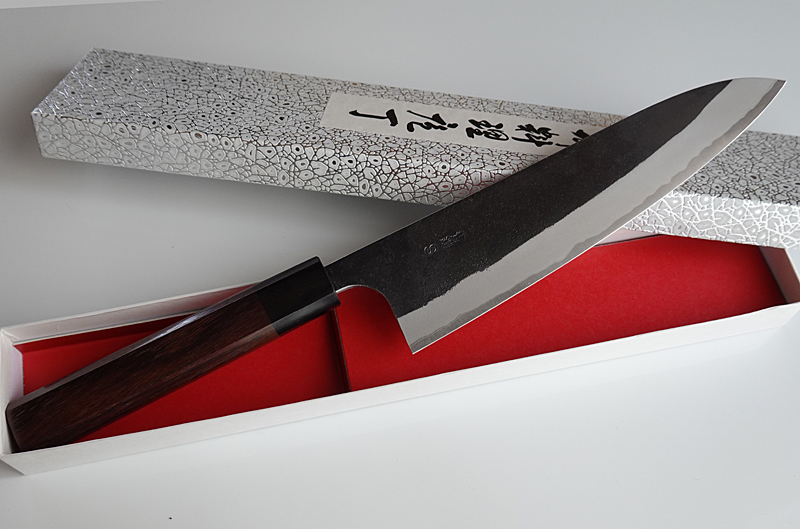 Blade : Aogami (blue) super is a steel from Hitachi metals. (Aogami = blue is not steel color. Put papers to distinguish steels, Aogami (blue) is the color of this paper and also name of steel.) It has the highest quality of Hitachi Mitals and maximum hardness of Japanese steel(HRC = 65). Aogami Super is not stainless steel, it should not leave wet. But it is covered with stainless steel, so most part of the blade has resistance to oxidation. Learn more about Aogami Super.

Handle : Made of Octagonal high quality rosewood , comfortable to grip.
Maintenance
Keep clean and dry after use.
Do not use for any frozen foods or bones.
Not recommend to clean in dishwasher.