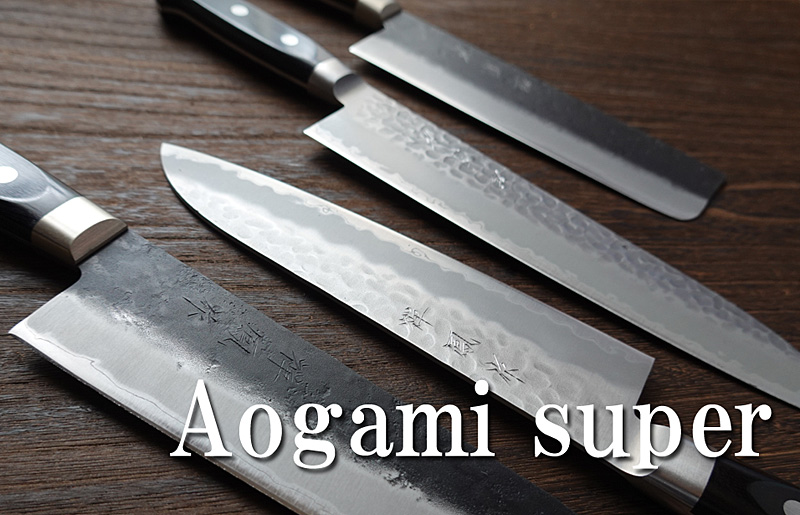 If you're looking for a really sharp knife, you should take Aogami Super knife into consideration. It is the sharpest and longest lasting sharpness Japanese knife.
About Aogami Super
Aogami Super is the name of steel made by Hitachi Metals, also known as Blue Super Steel. Aogami means blue.
It is the hardest Japanese steel with a very high carbon content, which means it can make the very sharp knife. In addition it has high wear resistance by including a lot of chrome, tungsten and molybdenum … in other words, the sharpness lasts for a long time.
(1)Excellent sharpness (2)Long-lasting sharpness, These two are the important characteristics of the Aogami Super Knife. Aogami Super is recognized by knife enthusiasts as one of the best knife steels in the world.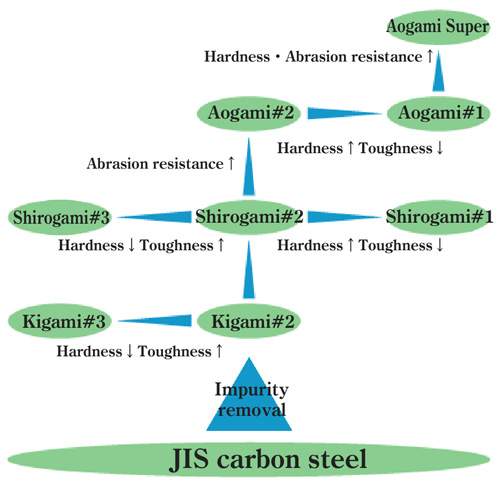 Disadvantages of Aogami Super
It's about rusting.
Steel can be divided into two types.
Carbon steel
Stainless steel
Aogami Super is classified as carbon steel, which has the property of rusting. (Stainless steel also can rust, but carbon steel rusts more easily.) So it is necessary to wash and dry after use to prevent it from rusting. If it gets rusty, you can remove it with a cleanser.
Aogami Super Knife is easy to sharpen?
Aogami super steel is very hard, so you may think that it is difficult to sharpen. But it is not hard to sharpen.
Aogami Super is carbon steel, and carbon steel is easier to sharpen than stainless steel. For example, Aogami Super Steel with a hardness of HRC66 and VG10 Stainless Steel with a hardness of HRC61 are equally easy to sharpen.
It is recommended to have a sharpening stone to keep its sharpness.
Recommended Aogami Super Knives
The blades of the Aogami Super Knife introduced here are covered with stainless steel on both sides. Therefore, the risk of rusting is reduced while maintaining sharpness.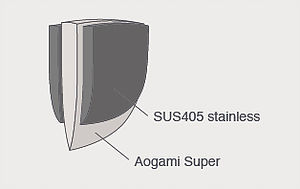 ---
---
---
---
---
---
---
---
---
---
Gingami#3 is stainless steel, but it has characteristics close to Aogami Super.
Normally the quality of sharpness is different between stainless steel and carbon steel. While stainless steel is slippery, carbon steel has a strong sharpness that cuts into food.
However, although Gingami#3 is stainless steel, it has a strong sharpness similar to carbon steel. This is because the Gingami#3 is manufactured by Hitachi Metals as well as the Aogami super. Gingami#3 is stainless steel, but it has properties close to carbon steel.
If you want the sharpest knives, Aogami Super is recommended. But if you want a rust-resistant knife, Gingami#3 is recommended. The stainless steel with properties closest to Aogami Super is Gingami#3.
Recommended Gingami#3 knives
---
---
---
---
Inquiries
If you have any questions, please do not hesitate to contact us.
viento@cuchillo-japones.com
Viento Kogei Hocho Store.
2253-1 Naka Mitakecho Kanigun Gifuken Japan 505-0121
Phone : 81-574-67-3781