It has a rustic beauty, Sanjo Kawamura Carbon steel Nakiri knife.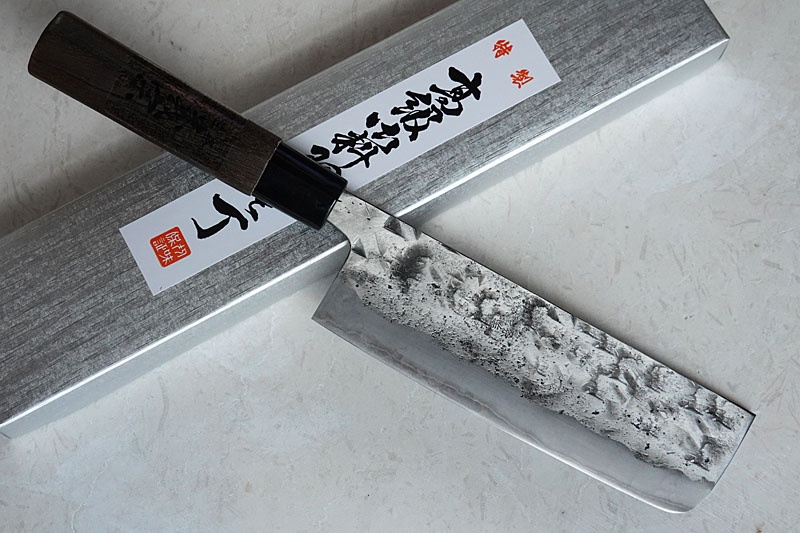 ---
US$106.00 $128.00
(See in various currencies)
---
– Specifications –
| | |
| --- | --- |
| Brand | Sanjo Yoshimune by Kawamura |
| Knife Type | Nakiri |
| Blade Steel | Shirogami#1 (Carbon) |
| Hardness | Around 62 HRC |
| Double beveled edge | For right and left-hand users |
| Handle | Chestnut wood |
| Blade Length | 165mm (6.5inch) |
| Total Length | 310mm (12.2inch) |
| Weight | 151grs (5.32oz) |
| Country | Made in Japan |
Description
For 50 years, Master Kawamura has manufactured handmade knives in his workshop. His work was broadcast by national TV channel NHK. 
Mr. kawamura is currently in his 70s and has no successor, so his knives are expected to become rare in the future.
Forged enough to perform maximum steel quality, and the shape is beautiful as an art. Shirogami carbon steel is not stainless. To avoid oxidation, please wash and dry after use.
Nakiri knife is mainly used for cutting vegetables.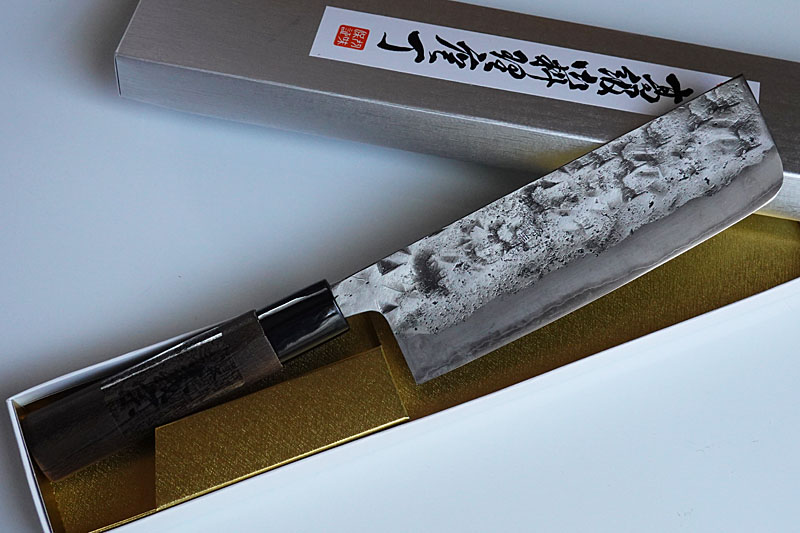 Blade : The edge of carbon steel called Shirogami is integrated in stainless steel. Shirogami is a steel manufactured by Hitachi Metals used for traditional Japanese knives. It is easy to rust, but it is sharp and easier to sharpen than a stainless steel knife.


Handle : Chestnut wood with plastic in classic shape (For use with right hand).
Maintenance
Keep clean and dry after use.
Do not use for any frozen foods or bones.
Not recommend to clean in dishwasher.