We present Japanese knife brands by area, because each area has its own knife-making characteristics.
The Japanese knife production area is related to the history of Japanese sword. Kitchen knives are still being made in areas where swords were made in the Warring States period and the Edo period. The main production areas of Japanese knives are Seki, Sakai, Echizen, Tsubame Sanjo and Tochi Tosa. Find your favorite Japanese knife brand and favorite knife.
Japanese Knife Brands in Seki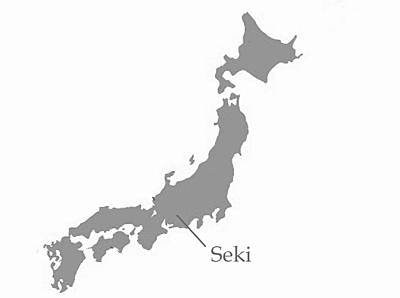 Seki City is located in central Japan, it is the largest Japanese knife production area. In making knives, they are using division of labor. There are specialists in some processes and manufacturers leave some steps to specialists, that is why Seki knives of higher quality and lower price can be made.
Seki Kanetsugu Brand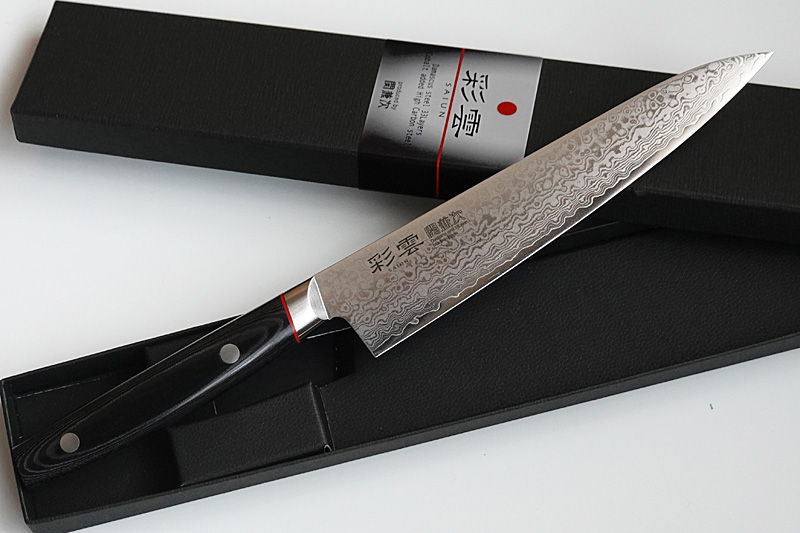 Price range : US$80.00 – US$300.00
The Sekikanetsugu brand's factory is located in Hitase – Seki City. In this area there are several makers, also HENCKELS (German knives manufacturer) does some processes here. YAXELL brand also uses Sekikanetsugu's factory. It is a very important place crafting knives, and Sekikanetsugu is a main brand of this area. Its blade is made of 33 layers VG10 Damascus steel, and the cutting edge is finished in a shape called Hamaguri(clam) to cut the ingredients smoothly.
Sekimagoroku (Shun)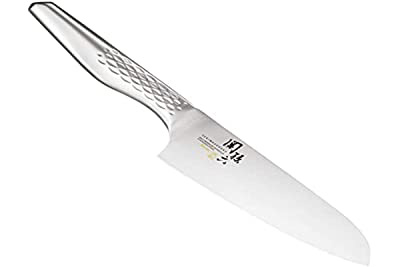 ---
Price range : US$ 20.00 – US$ 150.00
Sekimagoroku and Shun are brands of the same company. Sekimagoroku is made in Japan for the Japanese market, and Shun is for overseas market. They manufacture / release various types of kitchen knives from reasonable knives to professional use.
Minamoto Brand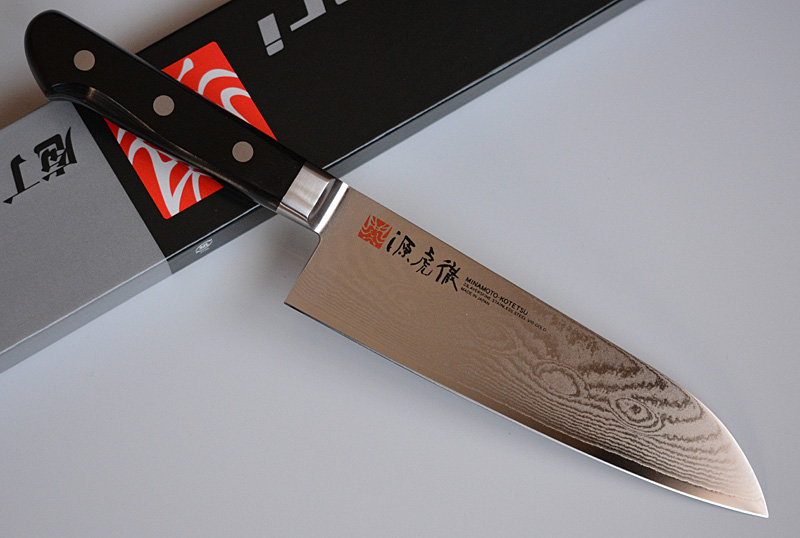 Price range : US$ 90.00 – US$ 160.00
Minamoto (Kotetsu) Brand by Yasuda cutlery is located in Seki city and knives are renowned for their precious work. They mainly make two types of knives, Sweden steel series for home use and Damascus with VG10 steel core series for professional use.
Misono Brand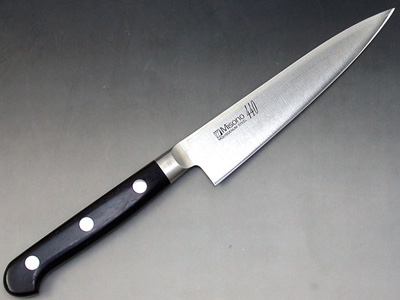 Price range : US$ 100.00 – US$ 200.00
A kitchen knife brand preferred by many professional chefs in Japan. Although it looks very simple, it is a highly rated kitchen knife that is very light and easy to use. The main knives are made of molybdenum steel and in the highest quality series is made of Swedish steel.
Masahiro Brand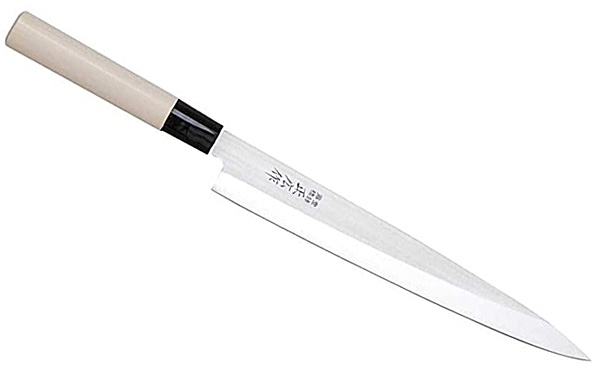 Price range : US$ 70.00 – US$ 200.00
Founded in 1932, it is one of the largest kitchen knife makers in Seki city(Seki is the center of cutlery manufacturing in Japan). Although there are few shipments overseas, it is very popular and famous locally. For home use and professional chef use .
TS Madam Brand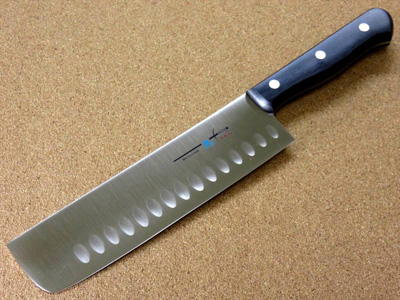 Price range : US$ 40.00 – US$ 100.00
Since the 1960 founding, it is a very popular kitchen knife maker for home use, and the same knives are also sold under the name Mac. Made by veteran craftsmen with more than 40 years career, the product is carefully finished. chrome molybdenum steel Blade with black pakkawood handle.
Zenpou Brand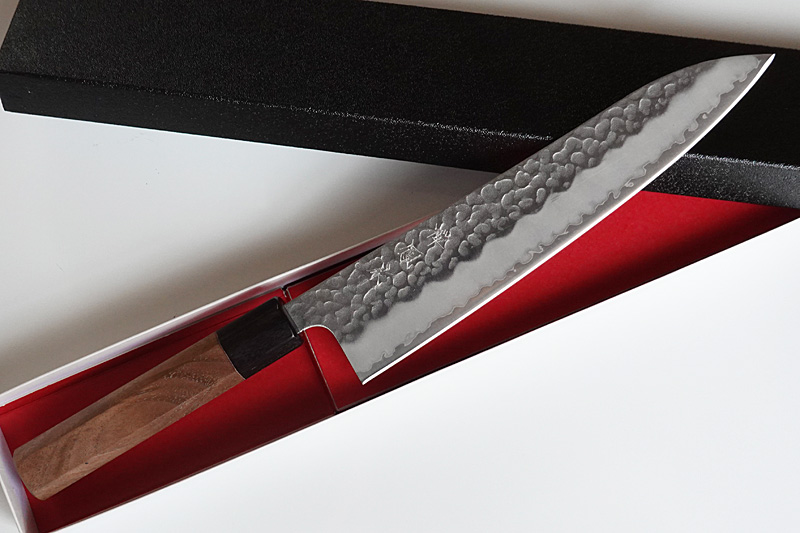 Price range : US$ 80.00 – US$ 200.00
Zenpo is our store's original brand. Our store is located very close to Seki City, and we visit Seki City every few days to pick up our knives. We also have contracts with factories and craftsmen all over Japan, and sell knives other than Seki.
Japanese Knife Brands in Sakai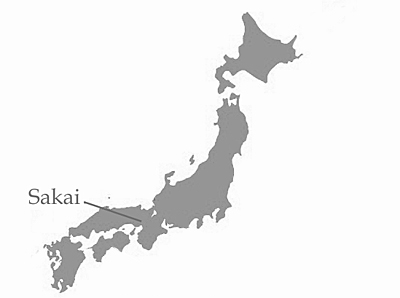 Sakai City is adjacent to Osaka City, Japan's second largest city, and has been known as a blacksmith city since the Edo period. In the city of Sakai there are many brands of single-edged Japanese-style knives, such as Deba and Yanagiba knives.
Sakai Kikumori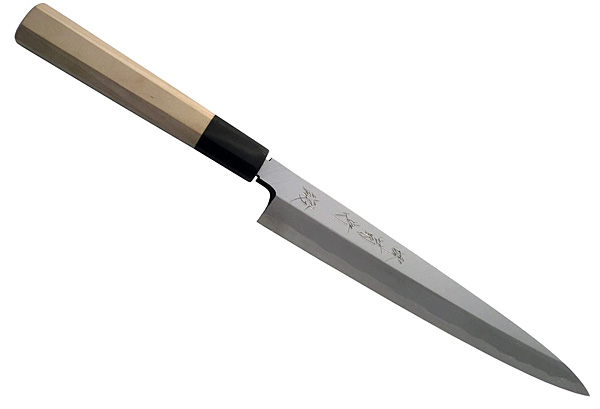 Price range : US$ 50.00 – US$ 1000.00
It is a kitchen knife brand located in Sakai city – Osaka. Sakai knives have been evolving in the last 600 years. Now Sakai traditional knives are popular and widely known among many chefs. This manufacturer has enough variety of Japanese traditional style knife like Yanagiba , Deba and also craft western knives.
Sakai Ichimonji Brand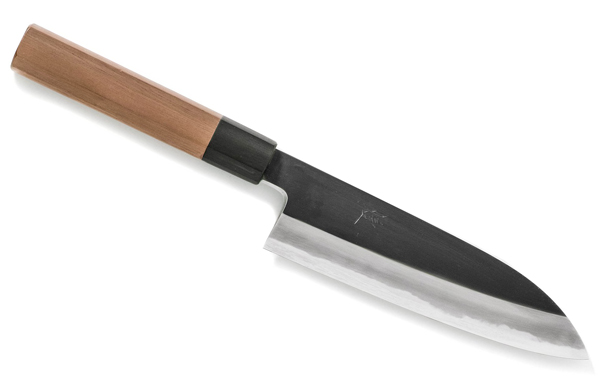 Price range : US$ 100.00 – US$ 800.00
Backed by the skills of the craftsmen who have been continuously improving their techniques for more than 600 years, the Sakai Ichimonji brand has been trusted by culinary for generations. Furthermore, we continue to evolve every aspect of our craft and customer service.
---
Sakai Takayuki Brand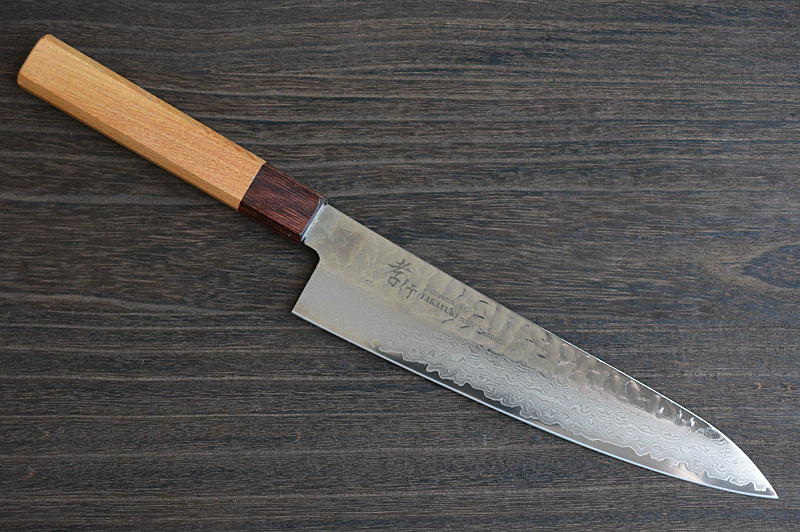 Price range : US$ 90.00 – US$ 400.00
One of the top kitchen knife brands from Osaka Japan which is preferred by many professional chefs. Sakai Takayuki handles many types of knives. They contract with several factories and craftsmen to make knives, and they also own one factory, where they make knives. Especially VG10 Damascus steel knives are famous and have a great reputation for their excellent quality.
Japanese Knife Brands in Echizen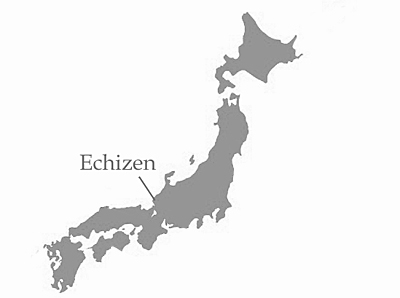 Each maker works independently. Most of the processes are carried out within the same manufacturer. Compared to the division of labor system of Seki city, this method is expensive. So the price of kitchen knives is a bit high. However, there are many unique and attractive kitchen knives in Echizen.
Saji Brand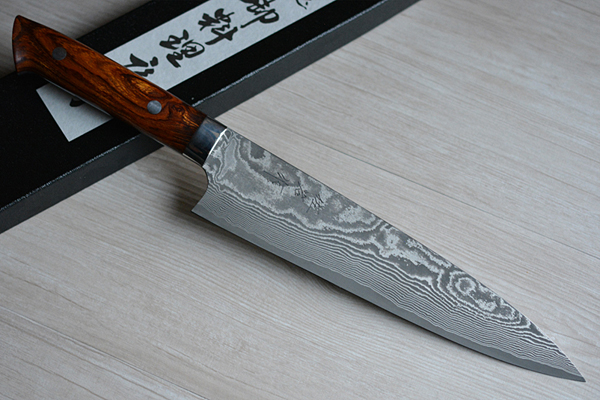 Price range : US$ 300.00 – US$ 700.00
Saji Brand : Mr.Takeshi Saji is the traditional craftsman certified from Japan government for 30 years and famous as a Echizen Knife master. (Echizen is a town known as the center of forged knives). His knives are little expensive, but as beautiful as a work of art.
Yamamoto Brand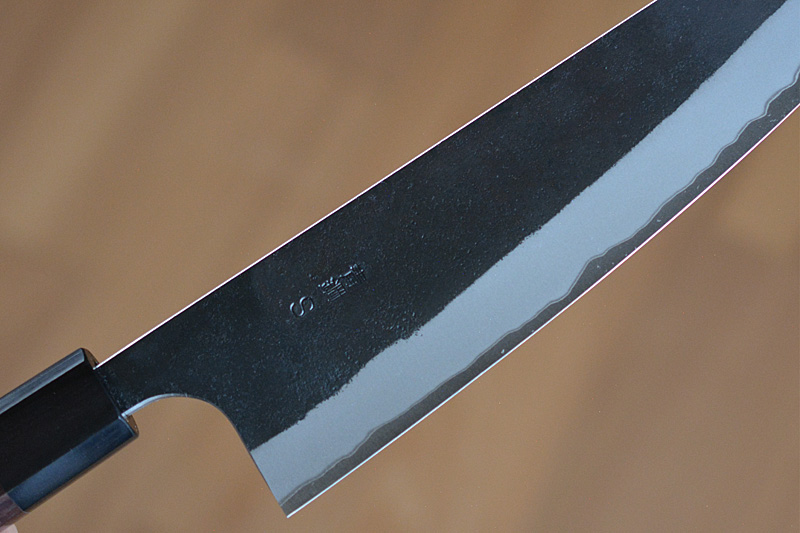 Price range : US$ 170.00 – US$ 300.00
Yamamoto Brand : Mr. Yamamoto is one of the most notable Echizen knife craftsmen. The Echizen area is known as the center of forged knives and Mr. Yamamoto is certified by the Japanese government as a traditional craftsman.
Japanese Knife Brands in Tsubame Sanjo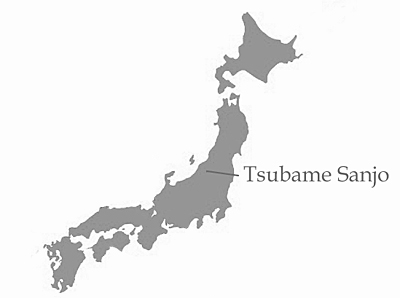 Not only kitchen knives, but also production of nail clippers, metal tableware, pots and pans, etc., it is a prosperous city. Kitchen knives are produced in various work styles, such as large manufacturers or individual brands.
Tojiro Brand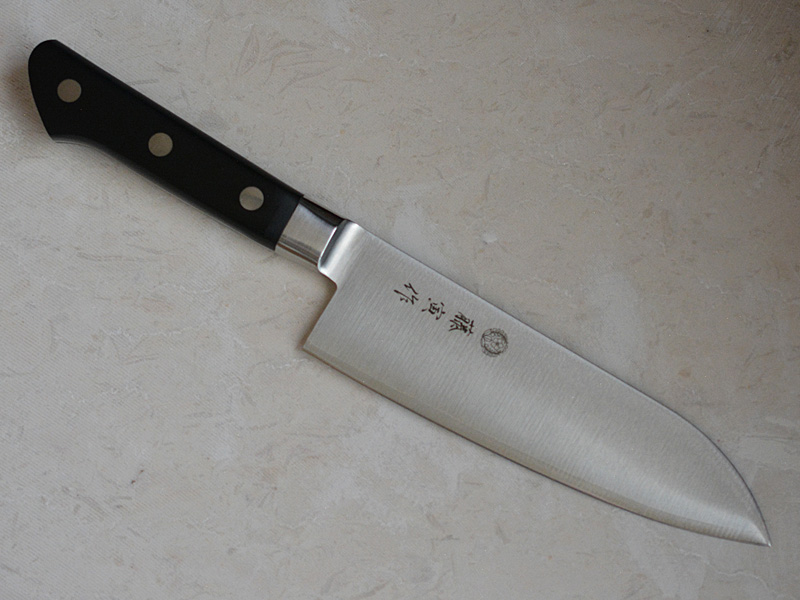 Price range : US$ 100.00 – US$ 150.00
Tojiro is the brand of Fujitara Industry Co. located in Tsubame-city. It has a wide range of items from Western knives to Japanese tradicional style knives. especially the Warikomi steel Western knives has the largest market share in Japan. If you want a tojiro knife, 13 chrome stainless with high carbon cobalt steel core knife is recommended. This is the typical knife of Warikomi steel.
Sanjo Yoshimune (Kawamura) Brand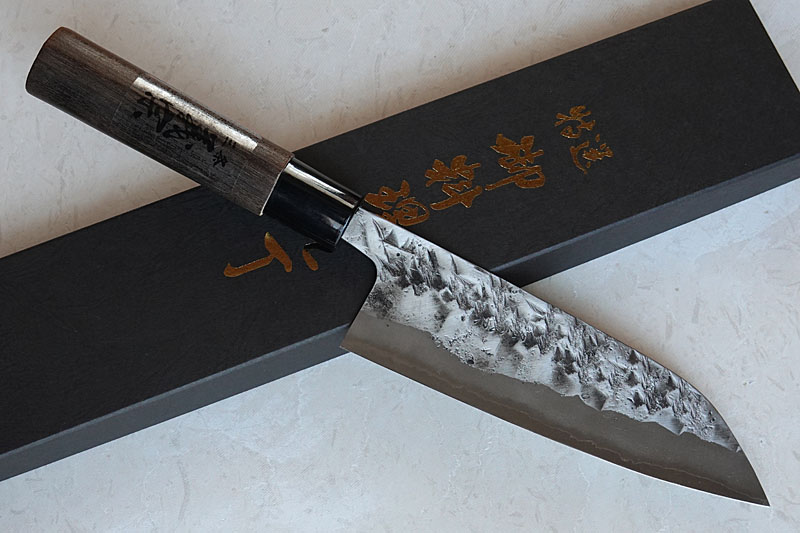 Price range : US$ 100.00 – US$ 150.00
For 40 years, Master Kawamura has manufactured handmade knives in his workshop. His work was broadcast by national TV channel NHK. Forged enough to perform maximum steel quality, and the shape is very beautiful as an art.
Kochi Tosa and other regional brands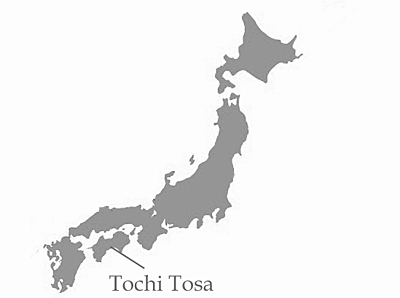 Tosa is a town located in the southern part of Japan that continues to make traditional Japanese knives. All knives are forged, and famous such as Funayuki knife, Black finish knife…ect.
Tosa Kajiya Brand
Price range : US$ 80.00 – US$ 150.00
Blacksmith inheriting the tradition of Tosa (Kochi Prefecture, southern Japan) Knife. Currently, Mr. Tsutomu the third generation and his son the fourth generation, are making kitchen knives. Those are forged and totally handmade knives. The artisans in the Tosa area do not do delicate work. The roughness and wild knives are his charm.
Nigara Brand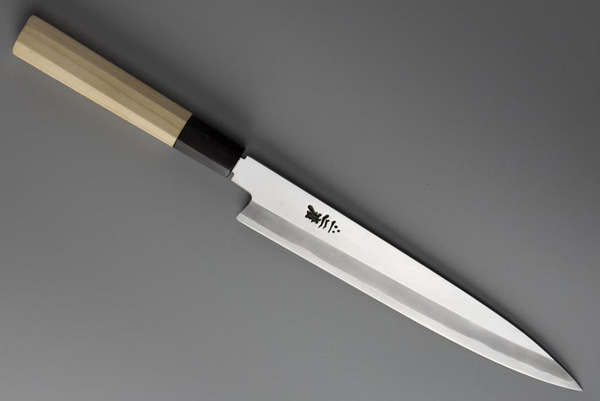 Price range : US$ 200.00 – US$ 500.00
Nigara Brand : Inheriting the 350-year sword-forging tradition in Aomori Prefecture. In the Edo period, the Tsugaru(Aomori) government ordered them to make swords and weapons. It is a kitchen knife manufacturer that inherits its technology and tradition.
Kyosera Brand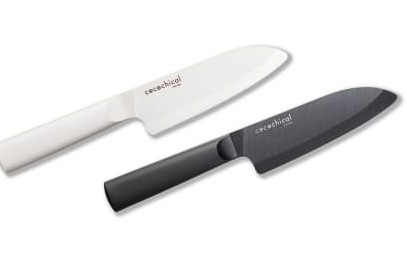 Price range : US$ 50.00 – US$ 80.00
Kyocera is an Consumer electronics manufacturer, but also makes knives. It became famous for ceramic knife. It is not very sharp as steel knife, but the maintenance is easy and never rusts. (Some Kyocera's products are made in China)
Kiya Brand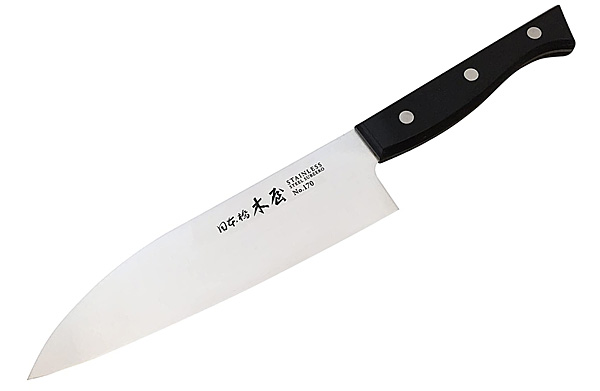 Price range : US$ 70.00 – US$ 300.00
There are few knife factories in Tokyo. Usually knife brands in Tokyo do not have factory and manufacture at factories in Seki City or Osaka. Among the knife brands in Tokyo, Kiya ,Tsukiji Masamoto, Tokyo Sugimoto… etc are famous.
Tsukiji Masamoto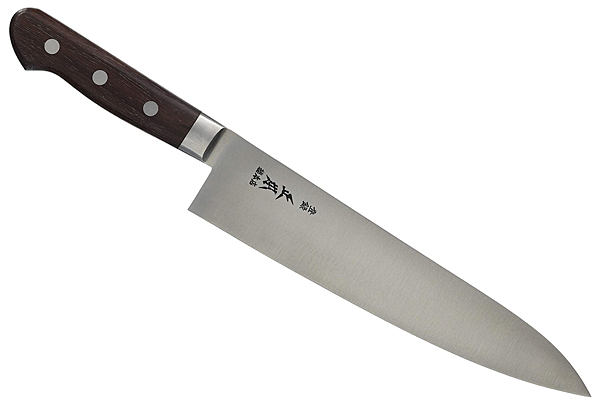 Price range : US$ 200.00 – US$ 1000.00
Founded in the late Edo period, it is a knife Brand that sells kitchen knives in Tsukiji. They mainly sells deba and yanagiba knives for cutting fish for the people working in the fish market.
Tokyo Sugimoto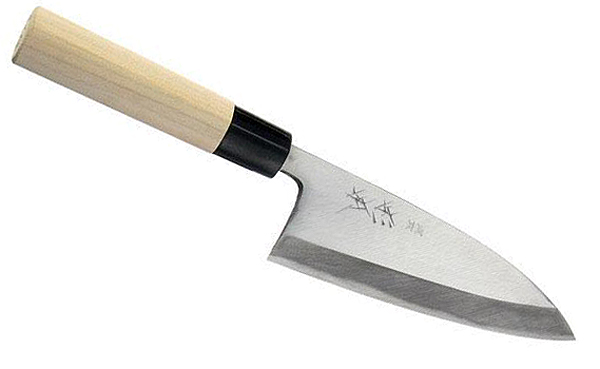 Price range : US$ 90.00 – US$ 200.00